Irish bands seem to do very well in Greece as there seems to be a constant stream of punk bands with an Irish flavour, such as the Rumjacks and Dropkick Murphy, regularly coming through the capital and playing to huge crowds. (I'm also going to go out on a limb here and say that, should U2 grace us with their presence, they too would have no problem selling tickets). Whether it be from their surrogate homes in the States or the original Emerald Isle itself, clearly Greeks feel a common bond with their Celtic Brethren. However it is not just punk rock where this connection is set. Hailing from County Wicklow, the Post Rock veterans, God is an Astronaut also get to feel the Athenian love on regular visits, and tonight it is easy to see why. A capacity crowd at the Fuzz club felt heavy with anticipation, they arrived early and were not disappointed. With music that flirts between the dreamy ethereal of fantasy and heavy tangible brutal noise that brings us crashing back down to earth, God Is an Astronaut delivered a stunning, uplifting and emotional set that spanned their entire 15 plus year career.
A self confessed gadget heavy band, the electronics from synths and laptops were in full view on the stage and they mixed perfectly with the guitars allowing the band to create a set that was laden with pastoral and colourful sounds. Spectacular soundscapes that droned and underscored the beautiful, shimmering reverb drenched arpeggios and heavy crunching distorted riffs created by the 2 brothers, Torsten and Niels Kinsella, who alternated between caressing their guitar and bass respectively and beating the living shit out of them. Backed up by long term stickman Lloyd Hanney and touring partner Robert Murphy on Keys and a rather nice Rickenbacker guitar, this is a band on top form who managed to emotionally lift and drain the crowd at will.
The band have long since dropped the visuals that were present at every show but the lights, as they swept across the venues horizon and rocked and tilted up to the rafters, more than made up for it. Creating a quite haunting atmosphere that supplemented the music quite beautifully as they drenched the band in hues of yellows and blues, while a backdrop of animated stars reminded us that this was not of this earth. When the band kicked in the distortion pedals the audience were met with a barrage of strobes. Atmospheric, ambient music needs a good light display and in no way did this disappoint. With the majority of the lighting sat behind the band it made for dark silhouettes that contrasted quite beautifully against the raging changing landscape behind them.
Supporting the wonderful new album Epitaph they opened with that albums one two of 'Epitaph' and 'Mortal Coil' before going right back to the beginning with 'The End Of The Beginning'. The gorgeous 'Forever Lost' with its opening piano refrain segued effortlessly into a strobe filled monstrous ending but you couldn't help wondering when the sonics had actually changed. Songs such as 'Suicide by Star' raced by before ending the main set with 'Centralia', with its driving rhythm and angelic vocals sweeping across the audience before being brought to a head with its chaotic climax. Ending, appropriately enough here in Athens, with Helios / Erebus and suddenly the crowd found themselves back in the streets and back to real life.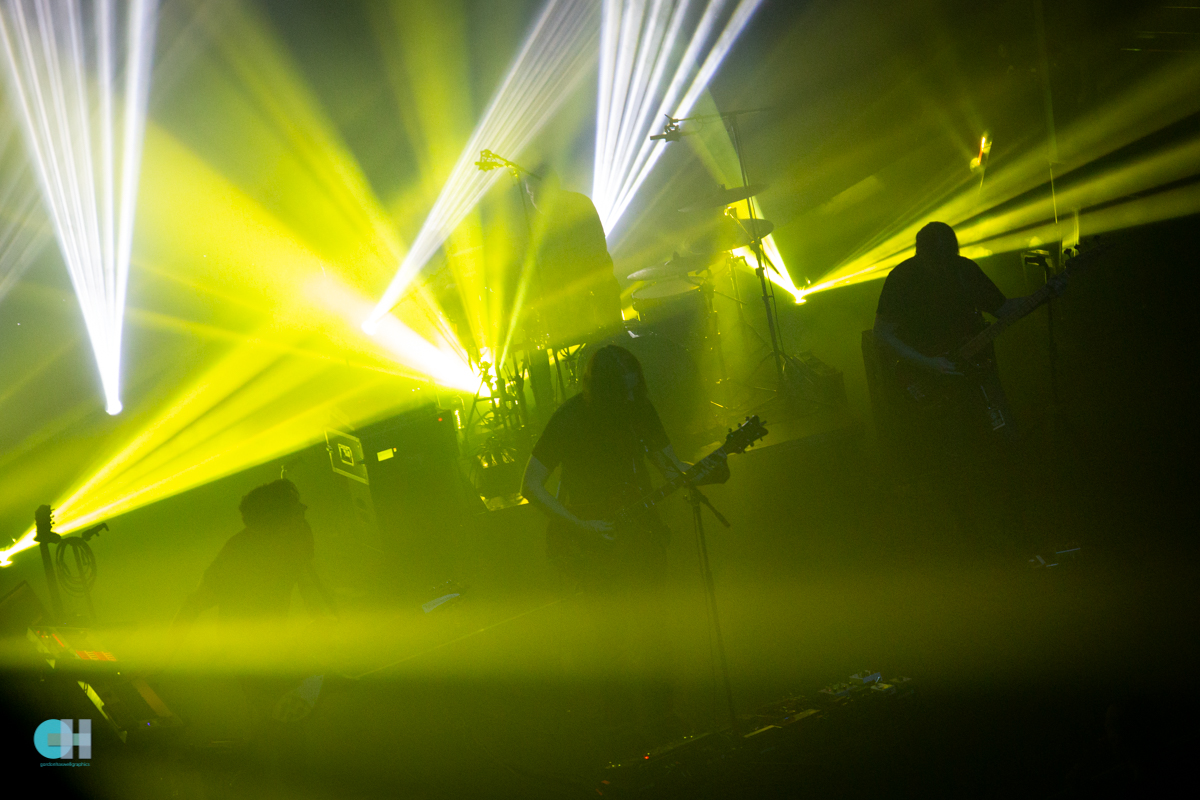 Support band Head On opened the night in fine form with front man Christos, resplendent in a casual suit with a severe case of the Micheal Stipeisms prowling and dancing across the stage while Giorgos smacked his guitar about. As the energy grew however, so apparently did their enthusiasm for stage intrusion as the gig got stopped half way through when the main band feared for their equipment that was stored at the back of the stage.
A little over reaction? Sure, as Torsten Kinsella later admitted, but maybe understandable, given the nature of his band's live sound and the reliance of electronics. One malfunction and the whole gig could be called off. Unfortunate as Head On were just hitting their stride and it was promising to be quite a set by them.
This brief, ugly situation however, soon evaporated once the Irish Post Rock gurus took the stage, taking the previous shenanigans in their stride and dispelling any bad feeling with their subsequent set. A glorious night.